notable Hunters 3
---
George and Henry Hunter
---
George Orby Hunter, (1773-1843), translator of Byron into French, was probably the English officer of the name who was appointed ensign in the old 100th foot in 1783, promoted lieutenant in the 7th royal fusiliers in 1785, and after holding the adjutancy of the latter corps for a few years, sold out of the army in February 1790.
The name does not occur in either the English or Indian army lists from 1790 to 1843.
The register of deaths at Dieppe shows that 'Georges Orby Hunter, colonel of English infantry, of the supposed age of 70, parentage and wife unknown, and having his domicile at No. 6 Grande Rue, Dieppe, died there on 26 April 1843.'
Hunter was engaged on a translation of Byron's works into French. He completed 'The Giaour,' 'Bride of Aby-dos,' 'Cain,' and the first 186 stanzas of 'Don Juan.' The work was finished by M. Pascal Rame, and was published, in three vols. 8vo, at Paris in 1845.
[Army Lists; Registre des Actes de Deces de la Ville de Dieppe at the Mairie of Dieppe; OEuvres de Byron, traduites de Orby Hunter et Pascal Rame (Paris, 1845), preface. For incidental notices of the family of Orby Hunter, of Crowland, Lincolnshire, see HUNTER, ROBERT, major-general; also Manning and Bray's Surrey, iii. 231; Gent. Mag. 1769 p. 511, 1791 pt. ii. p. 969 ; Hist. MSS. Comm. 8th Rep. i. 290-4.]
---
---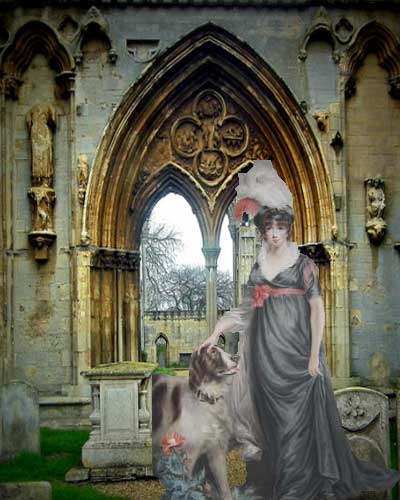 The Orby Hunter's had Admirals, Generals, Governors, Members of Parliament and even hot romance and intrigue in their time.
I will be covering them in more detail later.
---
---
Unfortunately I can't find much on George so far. In this group of pages I am initially taking my information from the Dictionary of National Biography printed in 1891 and adding some of the extra I have, to open it up.
The LordByron website shows, "Charles Orby Hunter of Croyland Abbey, Lincolnshire, died 1791, which he had inherited from his uncle, Thomas Orby Hunter; was living in Paris in distressed circumstances and was involved in a chancery suit with his wife in 1786.
The translator of Byron, George Orby Hunter, was probably his illegitimate son".
This could explain how there is not much written of his life.
The Orby line was an old and respected English family. Following a series of infant deaths and un-fruitfull marriages, Elizabeth Orby, became sole heir to the estates. She married Robert Hunter about 1709.
Robert, was the grandson of Robert Hunter, 20th laird of Hunterston, he had recently distinguished himself in Marlborough's army and was appointed Lt. Governor of Virginia in 1707, but on his way to take up the appointment his ship was captured en route by the French, and he was held prisoner for two years.
They had four children and thus started
the Orby Hunter line.
---
---
Henry Hunter D.D. (1741-1802), divine, born at Culross, Perthshire, on 25 Aug. 1741, was the fifth child of David and Agnes Hunter.
In 1754 he was sent to the university of Edinburgh, and became tutor first to Alexander Boswell, afterwards lord Balmuto, and subsequently, in 1758, in the family of the Earl of Dundonald at Culross Abbey.
On 2 May 1764 he received license to preach from the presbytery of Dunfermline, and was ordained minister of South Leith on 9 Jan. 1766.
In 1769 he preached in London, and declined a call from the Scots congregation in Swallow Street, Piccadilly; but in 1771 he accepted an invitation from the congregation at London Wall, and about the same time was created D.D. by the university of Edinburgh.
He visited Lavater at Zurich in August 1787, to secure Lavater's assent to the publication of an English version by himself of the 'Essays on Physiognomy.'
He officiated as chaplain to the Scots Corporation in London, and was, on 5 Aug. 1790, elected secretary to the corresponding board of the Society for Propagating Christian Knowledge in the Highlands and Islands of Scotland.
His closing years were clouded by the loss of four of his children.
He died at Bristol on 27 Oct. 1802, and his body was taken back to London where he was buried on 6 Nov. in Bunhill Fields.
In May 1766 he had married Margaret, daughter of Thomas Charters, minister of Inverkeithing, and by her, (who died on 25 July 1803), he left two sons and one daughter.
Hunter wrote:
'Sacred Biography,' a course of lectures on the lives of Bible characters (vol. i. 1783, vol. vi. and last 1792); 5th edition, 1802; 8th edition, 1820.
'Sermons To which are subjoined Memoirs, Anecdotes, and Illustrations,' 1795, 2 vols.
'Sermons and other Miscellaneous Pieces,' London, 1804, posthumous, with memoir.
Hunter's translations include:
'Lavater's Essays on Physiognomy,' London, 1789-98, 5 vols., illustrated with more than eight hundred engravings. The cost price of each copy was £30.
Euler's 'Letters to a German Princess on different subjects in Physics and Philosophy,' 2 vols. 1795, with original notes and a glossary of foreign and scientific terms; new edition, 1846.
Bernardin de St. Pierre's 'Studies of Nature' and 'Botanical Harmony,' 5 vols. 1796-7.
Sonnini de Manoncourt's 'Travels to Upper and Lower Egypt,' 3 vols. 1799.
The sixth volume of Saurin's 'Sermons,' 1800-6, 7 vols.
Castera's 'History of Catharine II,' 8vo, London, 1800.
In 1796 Hunter began the publication in parts of a careless 'History of London and its Environs,' which he did not live to complete.
At the request of his congregation Hunter completed and published John Fell's 'Lectures on the Evidences of Christianity,' 1798 (another edition, 1799).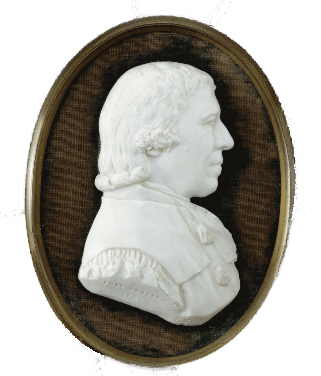 a Tassie medalion from 1795 showing Henry at age 54.
---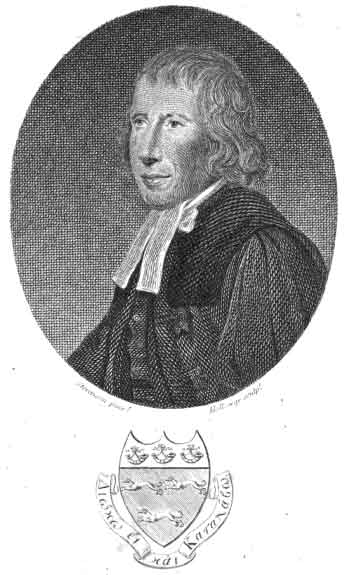 portrait of Henry Hunter D.D. and his coat of arms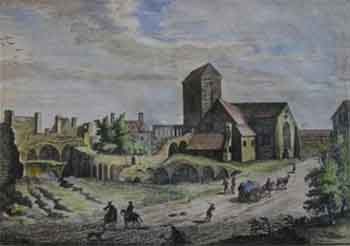 Culross Abbey, drawn around the time Henry was there.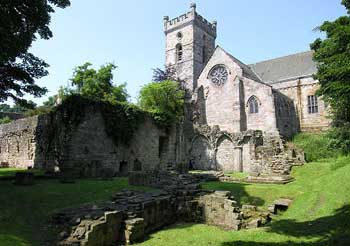 How Culross Abbey looks today
written on his grave
Beneath this pillar, raised by the hands of friendship, sleep the mortal remains of the Rev. Henry Hunter, D.D., who through a long life, deemed of those who knew him, alas! too short, served with unwearied assiduity the cause of religion, literature, and the poor.
In him, to distinguished talents and a capacious mind, were united energy of disposition, affability of manners, benevolence of heart, and warmth of affection; in the hearts of those who were blessed with his friendship is preserved the most sacred and inviolable attachment; but his best eulogium, and his most durable memorial will be found in his writings.
There he has an inscription which the revolutions of years cannot efface; and when the nettle shall skirt the base of this monument, and the moss obliterate this feeble testimonial of affection — when finally sinking under the pressure of years, this Pillar shall tremble and fall over the dust it covers, his name shall be perpetuated to generations yet unborn!
Reader, thus far suffer the effusions of affectionate remembrance, when no adequate eulogium can be pronounced; and when no other inscription was necessary to perpetuate the memory than Henry Hunter, thirty-one years pastor of the Scots' Church, London Wall; and on Wednesday, the 27th of October, 1802, left his family and his church to deplore, but never to retrieve his loss; and silently took his flight to Heaven, in the sixty-second year of his age.
---
---
Henry's parents were not well off but as his "sprightliness of mental character" became more apparent his grandfather lent a hand with the costs. He was sent to college in Edinburgh at the age of thirteen.
Culross (was in Perthshire until 1889, nowadays in Fife) is on the north bank of the Forth and there is a wee story of Henry on his way to Edinburgh worth relating showing the prevalent superstition and his contempt of it. The ferry only had one passenger, an old woman, well known round the whole country, under the name of Margaret Kidd, and dreaded and abhorred as being reputed a most dangerous witch. Contrary to the advice and entreaties of all his friends, who had accompanied him to the waterside, he seated himself in the boat. The old woman was struck with the behaviour of the young student, who conversed mildly with her; and her heart was affected by this first instance of human kindness that she had perhaps received for many years. On landing at Barrowstoness, she bade him farewell, and gave him her blessing, all the recompense she could make. 'I am called a witch,' said she; 'but, however that may be, depend upon it, an old woman's blessing will do you no harm!'
To the warm heart and enthusiastic mind of Henry Hunter, this blessing was like precious ointment on his head.
At college Mr. Hunter was greatly distinguished by his application to study, and by the variety and elegance of his acquirements; so that at the early age of seventeen he was appointed tutor to Mr. Boswell, of Balmuto, and afterwards one of the lords of session.
His next venture was, on receiving an offer, to superintend the education of Lord Dundonald's sons, he undertook the charge, and repaired to Culross Abbey, of which he later wrote, "One of the most infallible methods of acquiring knowledge, of any kind, is to communicate that which we already possess to others. Whilst we teach, we necessarily learn; while we study the illumination of our hearers, the darkness of our own mind is thereby dispelled."
He went through a lot of soul searching before taking up ministry and was soon offered places in Edinburgh and Paisley but decided on a less grand placement at the Kirk of South Leith in 1766. He got married four months later to his long time sweetheart Margaret Charters. They were settled and started a family.
Henry visited London in 1769 and was much impressed on the scale of the metropolis. Soon after his return home he received an offer to the pulpit at Swallow Street church in London at double the wages to what he now earned. He told his friends "nothing would induce him to quit his charge at Leith, but the possibility of obtaining a call from the Scots Church at London-wall."
Eighteen months later the minister of said church died and Henry was invited to fill the post. Henry tidied his affairs in Leith and on 11th August, 1771, headed for London.
He was very well received and soon was the most popular minister in the city. He had survived and thrived through dangerous times on the eclesiastical front. His open attitudes and willingness to talk and take on things new, saw him through. He was elected secretary of the Society for propagating Christian Knowledge in the Highlands and Islands of Scotland in 1790. He became chairman of the London Missionary Society in 1795. He served at the Scots Church for 31 years, in total, when on the 26th September, 1802, he had to stop mid-sermon with a siezure of faintness, to the alarm of his flock.
Things got worse and "being completely exhausted, he died, without pain, on the 27th of October, 1802.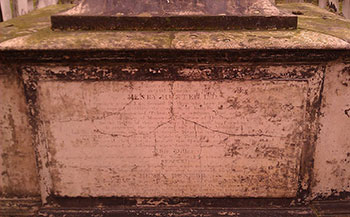 Henry's final resting place at Bunhill Fields, London.