Hunters of Argentina
---
The only numbers I can find state Argentina had 851 with the surname Hunter in 2014, I would think that must be families. I have started with the line from Doonholm which should be the largest documented group with an estimated 1500 descendants.
---
Hunters of Doonholm
Doonholm
---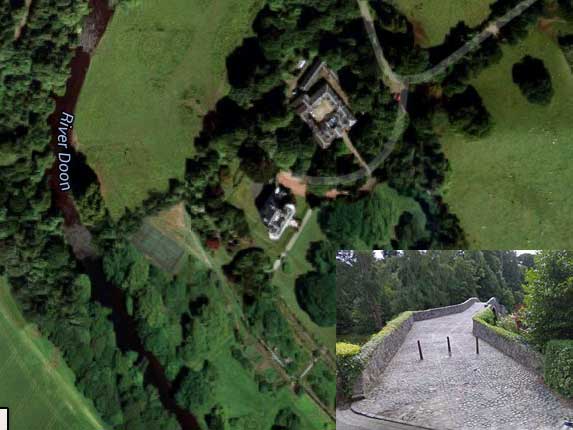 Our story starts in Doonholm Ayrshire.
A luxurious mansion, in Rabbie Burns country, just a couple of hundred yards from the Brig O' Doon (see inset). Holm is old Scots for a secluded island and Doonholm is located in a peninsula with the River Doon wrapping around it.
John Hunter W.S. second surviving son of Alexander Hunter of Abbotshill bought Doonholm in 1796. He died in 1823 at the grand old age of 78. He had a large family only five of whom survived, including one in particular who was to spread his seeds over two continents.
Andrew, who suceeded him
William, who died on the march to Seringapatam, an officer in the 19th Dragoons
John, who went with Col. Fullarton of Fullarton, Governor of Trinidad, as one of his secretaries, and died there
Alexander W.S. who married Maria fourth daughter of Alexander MacLean Esq., of Coll, by whom he had issue six sons and two daughters
Francis, a Major of Cavalry in E.I.C.'s service, Madras; married Elizabeth third daughter of Thomas Tulloh, Esq., of Ellieston and had three daughters
Elizabeth married to John Carr Esq., of St Anne's, Yorkshire
Eleanora-Garvine
---
Alexander Hunter
---
Obituary from Sydney Herald
---
On the 28th of September 1858, at Edinburgh, Alexander Hunter, Esq., W.S.
The late Mr. Hunter was the fourth son, who reached maturity, of the late John Hunter, Esq., of Doonholm and Bonnytown, W. S.,.
He was born in Edinburgh on the 9th of January, 1790. His mother was daughter and co-heiress of William Ferguson, Esq., of Doonholm and Bonnytown. Mr. Hunter passed as a Writer to the Signet in November, 1813, when he became a partner in business with his father, and on his retirement he became, and continued during the rest of his life, head of one of the most extensive houses of business in Scotland. He was thus connected with the management of many of the largest estates in the south-west of Scotland and the Highlands, for the long period of forty-five years, during which time he had the entire confidence and esteem of his numerous clients. He also held the office of Sheriff Clerk of Ayrshire for many years. He was conservative in his politics, and belonged to the Established Church.
He was a man of great acuteness, tact, and judgment, qualities which showed themselves not only in matters falling within the sphere of his profesional avocations, but in others of public or general interest, to which he from time to time devoted the energies of his ever active mind. He was an enthusiast in agriculture, to which much of his spare time was devoted. Every new improvement received his active support. He also devoted much attention to the subject of colonisation, to which he was led from his connection with some large estate, in the Highlands, by promoting emigration among the cottars on the over-peopled islands under his charge. His openness of character, frankness of manner, and genial kindness of disposition, attracted to him the confidence and attachment of every one in any way connected with him.
Ayr, 28th September. 1858.
Sons of Alexander
---
Alexander Hunter (father) married Maria MacLean on the 26th April 1819 in Edinburgh.
---
They had issue:
---
John Hunter was born 21st April 1820; he married in December, 1854, to Martina Arriola (born September 4, 1831), and he died in a cholera epidemic in Buenos Ayres, February 17, 1868
Alexander MacLean Hunter was born 25th Nov. 1821; married, on September 5, 1850, to Eliza Anna (born April 28, 1830, died January 6, 1902), daughter of Robert Bostock, Esq., and died at sea, on his way to the Cape of Good Hope, November 16, 1892
James Arthur Carr Hunter was born 30th Jan. 1823; married, on October 3, 1850, his cousin, Louisa Harriet, (born June 7, 1829, died July, 1890), daughter of the Rev. Alfred Utterson. He died December 19, 1889 in Victoria, Australia
Evan Allan Hunter was born 19th Jun. 1825; Writer to the Signet in Edinburgh. Married, June 15, 1871, Ernestine Eglantine, daughter of John Stuart Hay Newton, Esq., of Newton Hall. She was born June 8, 1840, and died December 16, 1874. Mr. Hunter died in Edinburgh, April 16, 1890
Andrew Francis Hunter was born 17th April 1827; died at Mount Gambier, Australia, September 24, 1854
William Fergusson Hunter was born 27th Sep. 1828; died 9th Mar 1906, Victoria, Australia
Catherine Cameron Hunter was born 7th May 1830;
Jane Elizabeth Hunter was born 6th Oct. 1831; married John Robb and had 5 little robbers, she died Nov. 1833, at Hollybush, Ayrshire
Maria Eleanora Hunter was born 10th Jun. 1833; died 1914 in Swan Reach, Victoria, Australia
Australia here we come
Work hard ~ play hard
---
Alexander Hunter W.S. (senior) together with a George Watson, formed a company in 1838 under the name of Watson and Hunter. This was to be a Pastoral Company taking advantage of the vast lands available and favourable climate in Australia.
This was only 40 years after Captain John Hunter was the region's second governor. The European population at that time was 3,211; of whom 59% were convicts and the rest consisted mainly military and admin. personnel and ex-prisoners whose sentences had expired.
It would be a tough and unforgiving place.
Ned Kelly country
---
Five of Alexander's sons sailed out to Australia to manage this enterprise.
The first to land in the country was Alexander, in 1839 and his brother John Hunter arrived 1840. John had just turned 20 and Alex was a mere 19. James followed, arriving in Sydney in 1841, then Frank came over about 1850 and Willie in 1851.
They were well prepared for what they had to do, expert horse-men, taught in sheep-rearing and animal husbandry. Alex had qualified as a Writer to the Signet so would know his way through the legal side of things and they had the funds aplenty.
---
---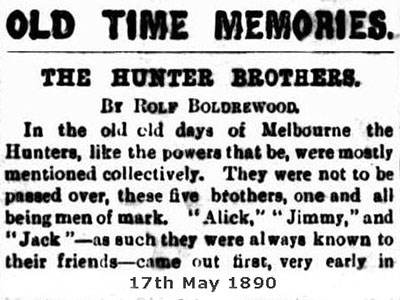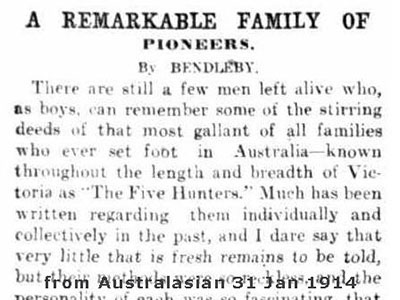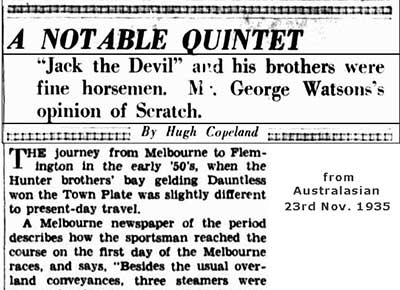 the boys
---

John Hunter, known as 'Daredevil Jack' was a fearless horseman and reckless rider. In the early 1850's he left for Argentina. On 17 February 1868 he died of cholera at Buenos Aires, survived by two daughters; his two sons predeceased him.

Alexander MacLean Hunter, Alex became one of the pioneers of Gippsland, he later served as a major in the mounted police. In the 1860's he went to South Africa where he grew sugar cane for six years but returned to Victoria where he took up Balla Balla station in 1872. He had three sons and two daughters. He died at sea, at the age of 71, on board the Tongariro while returning from a visit to Scotland.

James A.C. Hunter, had his name on Calagandoo station in 1847, though Alexander and Francis were associated with him in this venture. Later he accompanied his brother William to Fiji intending to take up land there, but soon returned and took up land at Minnieburn in Gippsland. He had four sons and two daughters. He died at St Kilda, Melbourne, on 19 December 1889.

Andrew Francis Hunter, served with the Cape mounted police in South Africa and then went to the Victorian police before joining Alexander and James at Calagandoo. Later he took up Moorak station. He was not married. He was killed by a bull in the Compton yards near Mount Gambier on 24 September 1854..

William Fergusson Hunter, a cripple but nevertheless a fine horseman, arrived in Australia in 1851 but, after some time in South Australia, went to Fiji where he spent twenty-five years. On his return he took up land near Warragul, Victoria, where he died on 9 March 1906. He was not married.
John Hunter descendants
---
John (details above) married in Buenos Aires on 13th December 1854, to Martina Arriola Pacheco, who was born September 4, 1831, died on 21st July 1916; her father was José Julián de Arriola Morcillo and her mother was Carmen Pacheco Concha.
and had issue:-
Maria Hunter Arriola, born on 2nd September 1856, died in 1945; married on 4th September 1875 to Juan Cano Diaz Vélez, who was born on 21st August 1855 and died 1905. His father was Juan Cano Castro and his mother was Carmen Diaz Vélez Guerrero.
Martina Hunter Arriola, born on 20th November 1857, died in 1909; married on 11th December 1873 to Lauro Cabral y Pérez de Prado, who was born on 15th August 1833 and died in 1893. His father was Bernardino Cabral Cascallares and his mother was Estela Pérez de Prado.
Juan Enrique Hunter Arriola (Jack), born on 10th August 1860, died in 1925; married Susana Cano, who died 13th April 1938.
Evan Gahbad (Eduardo) Hunter Arriola, born on 1st September 1867, died in 1923, married in 1892 to Julia Soler, who was born 25th April 1874. Her whose father was Gregorio Soler Casalla and her mother was Edelmira Soler Casalla.
Heading
---
there are a few genealogy programs I can add to show family trees, I have not yet mastered it, and rather than slow down the development of the rest of the website, while I am learning, I will leave the addition to a later time.
further reading
---
After Many Days Reminiscences of Cuthbert Fetherstonhaugh, an old guy looking back on fond memories. Easy reading either online or download for free. Shows what life was like in these days, lots of Hunter mentions.
Letters from Victorian pioneers a selection of letters with quite a few mentions. Easy reading either online or download for free.
Tom's Clan Hunter site in Canada. The Wild Boys of the Goulburn is a good story, also good coverage of Doonholm.