Hunter-Blair of Blairquhan
Hunter-Blair of Blairquhan Castle (1798 - 2012)
The original castle at Blairquhan started life in 1346 as a Tower House built for the McWhirters. In 1576 ownership moved to the Kennedy family until 1623. It then became the property of the Whitefoords until the Hunter - Blair family acquired it in 1798. The estate had been bought for David Hunter-Blair, by the trustees of his late uncle, Colonel William Hunter of Brownhill.
---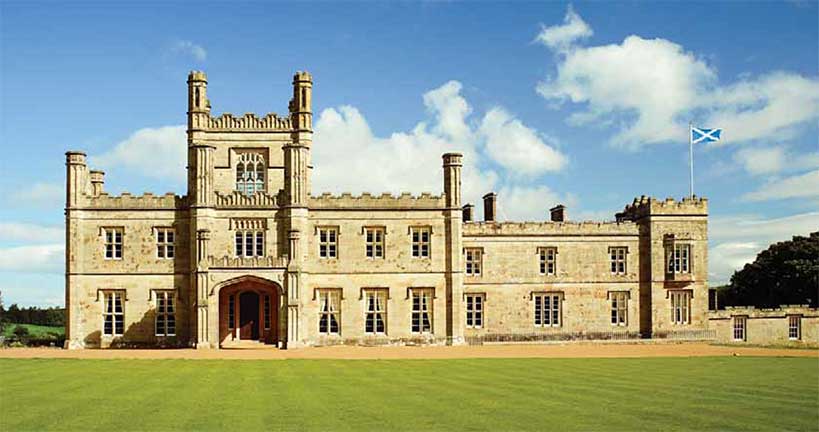 ---
David Hunter-Blair was born 3rd October 1778. One of fourteen children born to James Hunter, who had married Jean Blair of Dunskey in 1770 ~ their surnames were combined when, in 1777, she inherited her father's estate.
In 1803 David had a landscape architect draw up plans for the 12,000 acre estate, but didn't commit to them. He planted nearly half a million trees between 1803-14 and tried again in 1813 another well known architect to draw up a scheme for remodelling the old castle. However by 1818, he had to accept the old castle, fire damaged and crumbling, was just in too poor a condition to save.
He put the word out again to some select architects, seeking proposals, this time, for a brand new castle.
William Burn, the most sought after Scottish architect of the time, had his plans chosen.
(also known as designer of: Glenapp - James Hunter, Ardoon - John Hunter, Anton's Hill - Gen. Sir Martin Hunter and Auchterarder House for Lt.Col. James Hunter.)
The foundation stone was laid in 1821 and the work took three years to complete at a cost of £16,000 for the build and £4,000 for internal furnishings, which would equate to quite a few millions in todays money.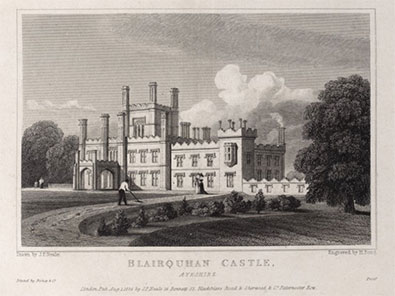 David succeeded to his fathers title of, Baronet of Dunskey, when his elder brother died in 1800. He became Vice Lieutenant and Convener of the County of Ayr.
In 1807 he was serving as Colonel in the Ayrshire Militia while his younger brother, James, who inherited the estates of Dunskey and Robertland and was for a considerable time M.P. for Wigtonshire, served as the Lieutenant-Colonel.
He was a member of the Northern Lighthouse Board, which his father had been a founding member and their first President.
He took over the warrant as the King's Printer and Stationer for Scotland and built premises at, you'll never guess, Blair Street next to Hunters Square, in Edinburgh, just of the South Bridge (all places named after or created by his father).
He was recognised by the Lord Lyon King of Arms, and matriculated his arms at the Lyons Office in 1827.
He married Dorothea MacKenzie in 1813 and had issue:
Maria-Dorothea, b. 26 Mar. 1816; m. to Walter Elliot
James, b. 22 March, 1817; Scots Fusilier Guards
Edward, b. 24 March, 1818; (later 4th Bt.)
In 1820 Dorothea died. David married again in 1825 to Elizabeth Hay and had another load of children:
John, b. 18 Oct. 1825, (d. 27 Mar 1885)
David, b. 22 Jan. 1827, (d. Rome 31 Mar 1869)
William, b. 18 Jan. 1828 (d. 23 Jan 1855)
Charles-Forbes, b. 15 May 1829, (d. 16 Mar 1854)
Archibald-Thomas, b. 5 Jan. 1832 (d. 21 Jan 1872)
Henry-Arthur, b. 18 June 1833 (d. 13 Nov 1903)
Mary-Elizabeth b. 1831; m. to Robert Vans Agnew
Jane-Anne-Eliza b. 1836; m. to Philip L. Sclater
David must have been no stranger to bereavement, being the 2nd last surviving out of fourteen children. He also had to bury his first wife and outlived three of his children: Lieutenant William Hunter Blair, late Royal Horse Artillery died at the age of 27; Charles Forbes died aged 25 in India, and James forever 37, buried where he fell in the Crimea.
James Hunter-Blair, eldest son and heir, was a Lieut.-Colonel in the Scots Fusilier Guards, and was elected Member of Parliament for Ayrshire in 1852. When the Crimean War broke out he re-joined his regiment, and fell at the battle of Inkerman, 5th November 1854.
...
David died at the age of 77
on the 26th Dec 1857.
---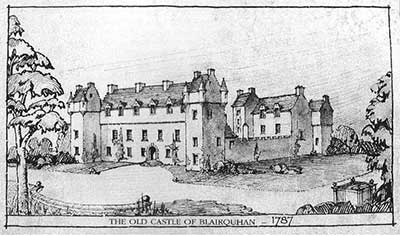 ---
baronial descendancy:
Sir James Hunter-Blair, was created a baronet in 1786, the Territorial Designation being "of Dunskey".
Sir John Hunter-Blair, (eldest son of James) was 2nd Baronet, 1787-1800 ~ died unmrd.
Sir David Hunter-Blair, (2nd eldest son of James) was 3rd Baronet 1800-1857
Sir Edward Hunter-Blair, (eldest surviving son of David) was 4th Baronet 1857-1896
Sir David Oswald Hunter-Blair, (eldest son of Edward) 5th Baronet 1896-1939 ~ died unmrd.
Sir Edward Hunter-Blair, (eldest surviving son of 4th bt) 6th Baronet 1939-1945
Sir James Hunter-Blair, (eldest son of Edward 6th) 7th Baronet 1945-1985
Sir Edward Thomas Hunter-Blair, (son of James 7th bt.) 8th Baronet 1985-2006
Sir Patrick David Hunter Blair, (grandson of 7th bt's younger brother) 9th Baronet 2006-present.
---

Straiton is the nearest village, about one mile away south-easterly. A smart little place, Sir Edward 4th Bt, rebuilt the village in the late 1800's.
-
This is St Cuthbert's Church, Straiton, dating from 1758, restored by Sir David 5th Bt, in 1901. On the right in the picture is Craigengower hill which looks down over village, the obelisk on top, is a monument Sir David 3rd Bt, built to the memory of his first-born son James.
-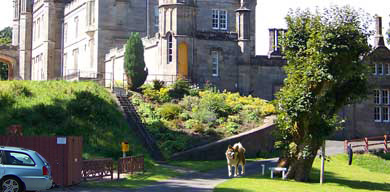 Between the castle and the stables is the dool or dule tree.
-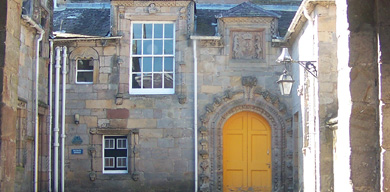 Parts from the old castle were incorporated in the kitchen area (nowadays offices).
-

Shield showing Hunter-Blair arms
above main entrance..
---
Blairquhan Castle, Ayrshire
THE SEAT OF SIR DAVID HUNTER BLAIR, BART.
This Residence is beautifully situated on the banks of the river Girvan, in the southern district of Ayrshire, Carrick, thirteen miles south of Ayr.
It was purchased by the present family towards the end of last century, from the family of Whiteford, who had acquired it in Charles the Second's time, from the old possessors, the Kennedys of Blairquhan, a principal branch of the family of Kennedy, Earls of Cassillis, from which the present proprietor is also maternally descended, his grand mother, Anne Kennedy, being sister and coheiress with her only sister, Elizabeth, Lady Cathcart, of Carlton, to David, tenth Earl of Cassillis.
The former Mansion, the remains of which were taken down to make room for the present edifice, was an irregular building of large size; and, at the period when it was erected, a great part about the year 1570, in the reign of Queen Mary, of considerable magnificence. The most ancient part was said by tradition to have been built by the M'Quirters, and supposed to be of remote antiquity. All that remained of it was a square Tower of great strength aud thickness, which bore the name of M'Quirter Tower. The building had become a total ruin, when removed by the present proprietor.
Near the site are many fine old trees, particularly two Sycamores of great age and size, called the Dool Trees of Blairquhan; being, it is supposed, the place of execution in the times of feudal power.
The present elegant Mansion has been lately built from the design, and under the inspection, of William Burn, Esq., of Edinburgh: it is a correct specimen of the architecture of Henry the Seventh's time, and its general effect is very striking and splendid. At the entrance carriages drive under a very beautiful Porch of the Tudor style. Through the entrance Hall we are conducted into a lofty Saloon, about sixty feet in height, which communicates with the principal Staircase, all of which are richly decorated in the style of the building, with ornamental oak tracery and plaster work. The principal apartments are large and handsome, and the Bed-rooms and other accommodations, of the most commodious description.
Some curious sculptured stone-work, as windows, mouldings, &c, of the ancient Mansion, was carefully preserved at pulling it down, and has been disposed around the inside of the Kitchen court with very happy effect, so as to give the whole the character of an ancient building, without exhibiting any incongruity with the exterior of the rest of the Mansion.
The Grounds lying beautifully on both sides of the river Girvan, which winds for nearly four miles through Blairquhan, have been embellished with great taste by the present proprietor; and the river flows amongst extensive plantations and old trees through a fine length of Park, under the windows of the principal apartments.
The approach, which is entered by a handsome Bridge and Lodge, also from the designs of William Burn, Esq., has been conducted up the river for about two miles and a half, and winds through rocky and well wooded banks of the most romantic description, till it comes in sight of the House, at the distance of about half a mile, and presents a sudden prospect of the Mansion and the adjacent grounds, peculiarly fine and striking; and in approaching the Castle, the road passes through an old dark avenue of lofty lime-trees.
Sir James Hunter Blair, Baronet, of Dunskey and Robertland, the father of the present proprietor, descended from the very ancient family of Hunter of Hunterstone, in Ayrshire, was twice elected Member of Parliament for the city of Edinburgh, in 1781 and 1784.
He married, in 1770, Jane, daughter and heiress of John Blair, Esq., of Dunskey, in Wigtonshire, by Anne Kennedy, of Culzean, formerly mentioned. He was created a Baronet in 1786.
The present Baronet is Vice Lieutenant and Convener of the County of Ayr, and married, in 1813, Dorothea, second daughter of Edward Hay MacKenzie, Esq., brother of George, seventh Marquis of Tweedale, by the Honorable Maria Murray, daughter of George, sixth Lord Elibank.
She died in 1820, leaving one daughter and two Sons.
Sir David Hunter Blair married, secondly, in 1825, Elizabeth, second daughter of Sir John Hay, Baronet, of Smithfield and Hayston, by the Honorable Mary Elizabeth, daughter of James, sixteenth Lord Forbes.
---
obelisk on Craigengower hill
---
In 1883 the families estates amounted to 13,417 acres in Ayrshire and 8,255 acres in Wigtonshire.
---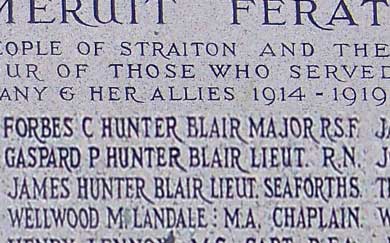 from 1914-19 war memorial at St Cuthbert's
---
I have concentrated on David, due to space and time, but obviously other family members have played their part in nurturing the estate in the years that followed.
---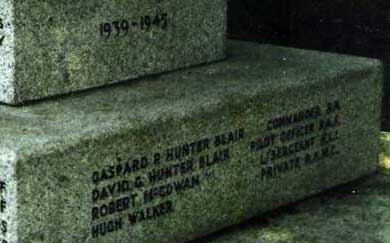 Straiton 1939-1945 war memorial
---
Over the last ten years the estate has been under pressure from debts and taxes. They tried selling paintings and art works, which brought in a few million, but eventually Blairquhan castle and 670 acres of the estate went on the market for £4.85 million.
It was sold in 2012 and now the present Baronet, Sir Patrick and Lady Hunter Blair, still live on part of what used to be the estate, in the "old dower house" at Milton of Blairquhan.